(408) 377-5278
Monday - Friday, 9AM - 5PM
2668 Mercantile Dr., Unit F,
Rancho Cordova, CA 95742
During the Covid-19 alert we are operating slightly reduced hours as described above and will be taking extra equipment/parts/karts sanitization steps, practicing social distancing and enhanced safe work practices to minimize any risk of exposure to customers and employees. Thanks for understanding.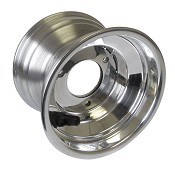 5x3.5 w2bs Polished USA
$37.50
Classic design, light weight, T-6 strong. Economical racing wheels. Non-machined with American 3 x 2.5" bolt pattern 1.75" register. Polished finish. Made in the USA.